When I first designed our first three way speaker from the Microdesign series, ArmoniaMundi Impact, I would never thought I would obtain such good results.
It been a few years before we got this result and today we're proud to introduce you our first shelf speaker from the Microdesign  three way series: Jupiter Impact.
Jupiter Impact makes usage of "state of art" driver, an acoustic labyrinth with a bass reflex and a completely new kind of stuff among the audio components: two central woofers and two full range on the sides of the speaker, basically a reversed D'Appolito system with a back tweeter in antiphase to empower the extension on the top and make the stage even wider. This kind of asset makes possible the placing of the speakers even at a unusual height (or lowness) with the possibility to be placed even horizontally. In this way the two external drivers "cover" a wide vertical acoustic range. Five drivers in one single 10 cm large and 44 cm tall speaker with a great off-axis dispersion, a wide stage and a large response in frequencies. The timber recalls ArmoniaMundi Impact's one but with a half big box! The usage of the small 3" drivers are going to be in the future more and more used by important builders: they work faster, there's a better out-axis dispersion, there's a better damping factor, the sound is more natural and there's a better interaction with the domestic environments since the quantity of air that is moved is less compared to the bigger speakers.
A elegant design, a unique object for its volume and its sound quality, the manufacturing is completely handmade as the Doacoustic tradition wants.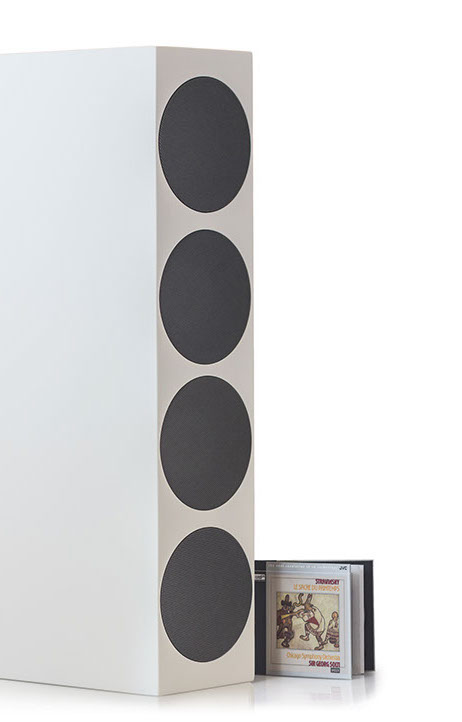 FEATURES
Three way reflection system in trasmission line plus bass reflex
Two full range 3", two woofer 3" plus one tweeter 27mm on the rear of speaker.
Solid cabinet
Quasi-point source.
State of art driver.
Mundorf component.
FREQUENCY
+/- 3 db 45 Hz – 20 KHz 1 watt/m
88 db sensibility
4 Ohm nominal impedance
20-150 watts
Dimensions
Weight
recommended power
guarantee
Surface finishing:
White matt
Black matt
Bamboo*
Purple matt
Green matt.

Others finishes under request
RELATED PRODUCTS